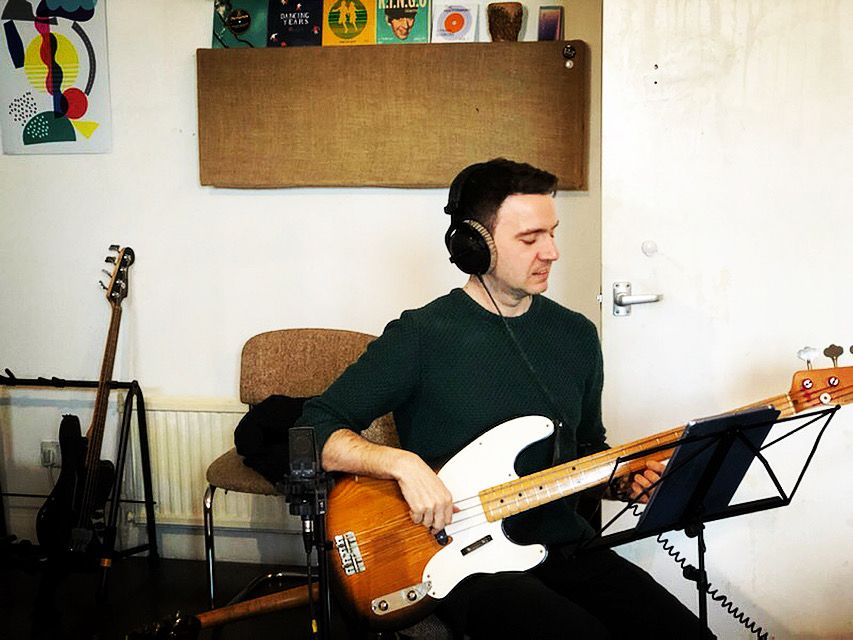 In this blog post, I am going to discuss the progress made with the recording process and share my thoughts so far. 2021 was a difficult year to organise projects that involved other musicians being in confined spaces due to the coronavirus pandemic. Restrictions were in place at intervals throughout they year, and when restrictions weren't in place, people were understandably hesitant to work in confined spaces, or were unable to due to isolation. Most of my work in this aspect of the Ph.D during 2021 was in planning. I needed to find the right musicians, equipment, studio and test piece. 
In order to make the process as free of complications as possible, I needed to find a studio which was close by, would have free time to book, would not be too expensive and would have a recording engineer who I could rely on. I have been very fortunate in this respect as a friend and fellow musician has set up a studio in the village where I live which seems to have everything I will need for this research. The studio is a 5 minute walk from my house and I have been friends with the engineer for over 10 years. He is a drummer with a degree and an MA in jazz studies so he not only understands the research, he is enthusiastic about being involved. 
As I am comparing audio recordings, I believe the best and easiest way to do this is by using the same written bass line at the same tempo. What is being compared is the sound and frequencies produced by different instruments and techniques. Therefore, if the performances line up as much as possible, it will make the analysis much easier. I will be able to line the audio recordings up and not only analyse them using software, I will be able to visually compare the waveforms. The bass line will be a 12 bar blues line in Bb taken from Montgomery's bass tuition book. 
The options of equipment which I could use are extensive. There are so many variations of the bass guitar available now that I will have to limit my options initially and I can expand on them if time allows. I am comparing the sound of the bass guitar to that of the double bass so the double bass will be recorded first as the test piece. There will only be 2 variations with the double bass and these will be with the strings - steel and 'gut'.Due to his historical significance on the instrument, a reasonable amount of information is available regarding Montgomery's bass guitar instruments and techniques (mainly from his interviews and tuition book). Although he made several albums on the double bass and returned to the instrument in the 1960's, very little information is available regarding his double bass playing. I am relying on photographic evidence and audio recordings so far. I am hoping that video footage may exist which would allow me a greater insight into his playing techniques. 
The initial recording variations on the bass guitar will be - 
Fender Precision Bass (1950's replica) with flat wound strings - 
1) Played using the right hand thumb 
2) Played using the right hand index finger 
3) Played using a felt plectrum 
Fender Jazz Bass (1970's replica) with flat wound strings - 
1) Played using the right hand thumb 
2) Played using the right hand index finger 
3) Played using a felt plectrum 
Alembic Bass Guitar With Active Electronics with round wound strings - 
1) Played using the right hand thumb 
2) Played using the right hand index finger 
3) Played using a felt plectrum 
I have chosen these three instrument for the following reasons. The precision bass is the closest instrument which I have available to that which Montgomery would have played in his initial stages of bass guitar playing. I would like to use an original 1950's bass but these instruments are collectors items. If it can be arranged, I would like to loan one of these for the recording process. The three right hand techniques cover the two which are known to have been used by Montgomery (thumb and plectrum) and one which has now become the primary right hand bass technique (rest stroke with the index finger). Montgomery switched to a Fender Jazz Bass later in his career when his Precision was stolen. Video footage exists of him playing this instrument so I believe it to be essential to the recording process. I have included the Alembic bass as an example of an instrument with is very popular in the bass guitar world but is far removed from any instrument which Montgomery used regularly. Bass guitars could be split into 2 distinct camps. Those with passive circuitry and those with active circuitry. It would seem to be a glaring omission if I did not include the later. 
On the 12th January, 2022 I went to the recording studio to do some initial recordings. The intention is not to use these recordings in the analysis stage but just to have a trial run and trouble shoot any issues which may arise. The recordings were made with bass and drums. The recordings of the bass instruments will need to be free of bleed in order to analyse them properly. Therefore, the bass guitars were plugged directly into the desk and the double bass will be recorded in a separate room to the other instruments. When recording the double bass, I will use microphones instead of the pick up as that will be closer to the recording techniques of the 1950's and 1960's. I would like to use amplifiers for the bass guitars as the research progresses which would require the amplifier to be isolated in a separate room. Unfortunately, I know very little about how Montgomery's bass was recorded. Therefore, I will research the standard recording techniques for the bass guitar and double bass in jazz during this era. 
Assuming the recording process is free of issues, I plan to do 2 initial sets of recordings. The first will be with a small ensemble. If the musicians availability allows, the band will be comprised of bass, drums, vibraphone and either piano or guitar. I would like to include a vibraphone as so much of Montgomery's recorded output was with one (Lionel Hampton, Buddy Montgomery, Roy Ayers). I only know one jazz vibraphone player so the recording will rely heavily on his availability. As a student of the instrument, he is also very keen to be involved in the project. I would like the recording to take place with an ensemble as I believe that musicians play differently in an ensemble than they would individually. As a bassist, I believe that I would be compelled to 'dig in' more when playing with a drummer than I would in a room on my own. However, I will make the same set of recording on my own. It will be interesting to see if there any differences in my playing in the two situations. All of the recordings will be done to a click track. Although this presumably did not happen on Montgomery's recordings, it will make the process of analysis much more straight forward