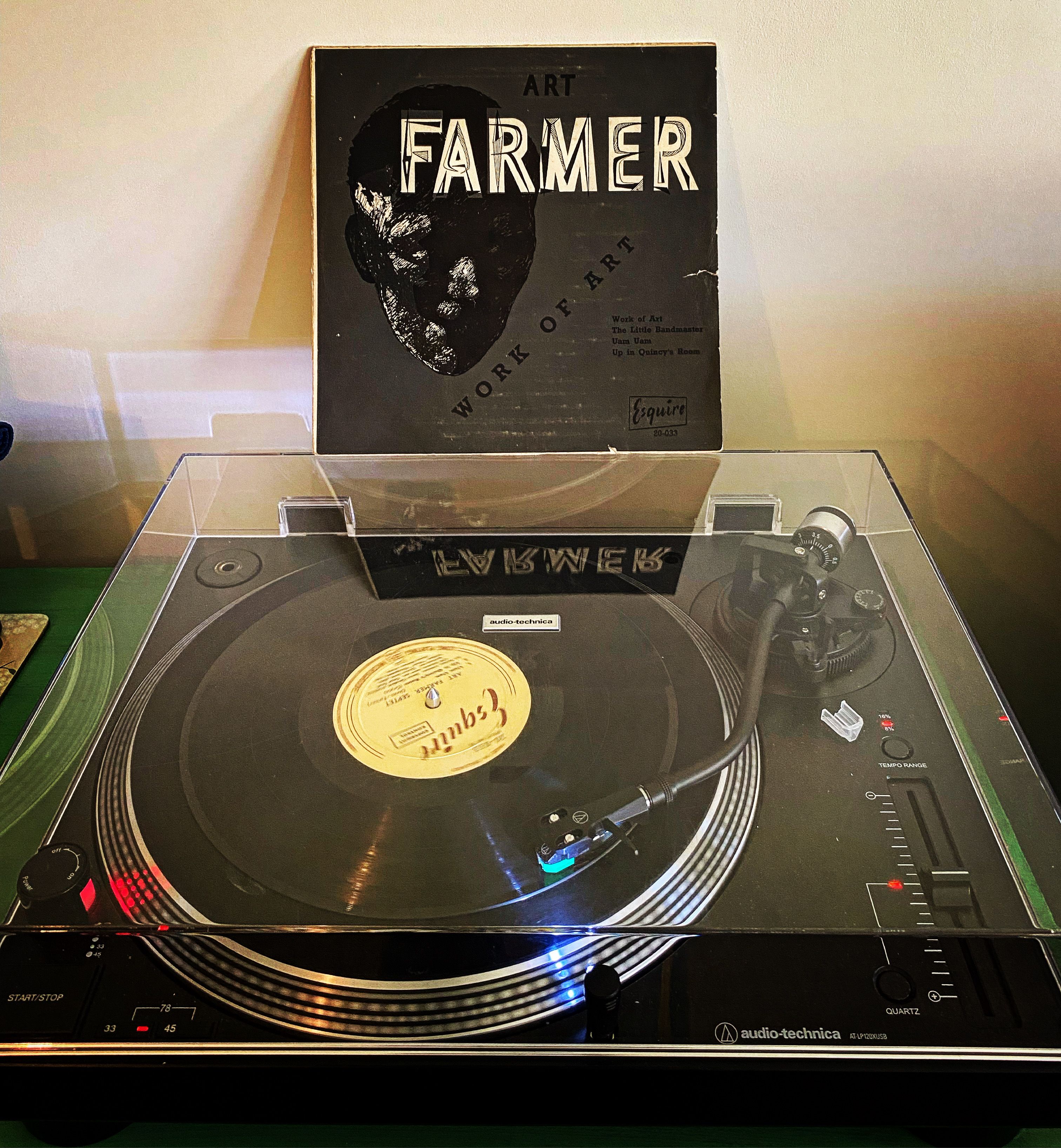 The journey of discovering and accumulating Monk Montgomery's recorded output has been long, yet enjoyable and rewarding. In a recording career that spanned a near 30 year period, Montgomery recorded on dozens of studio and live albums, some of which are still surfacing with the vinyl revival. Some recordings have proved more difficult to track down than others. The rarest being In Africa…Live! released under Montgomery's own name, and Johnny Griffin's Do Nothin' Till You Here From Me. 
Montgomery's first recording on the Fender Bass (which is also believed to be the first commercially available studio recording of the instrument) was on a session by the Art Farmer Septet. The band was comprised of members of the Lionel Hampton Orchestra and the session features Quincy Jones as the arranger and pianist. These recordings have been issued under various titles over the years. However, I have searched for an original issue (under the title Work Of Art) on the Esquire label for many years. Only one copy has been available on the internet to my knowledge and it is listed for over £300. 
This week, on a trip to Lincoln, I went to the local record shops, as I do when visiting any new destination. Just before leaving the city, I noticed a sign for a picture framing shop which also sells vinyl. I went in and browsed the vinyl on the racks. I noticed a few boxes of vinyl on the floor and had a quick skim through. To my surprise, and elation, in the box sat a copy of Work Of Art for the humble price of £40. The copy plays very nicely and the sleeve is in good condition for its near 70 year old age. It is discoveries like this that make the hours of searching though dusty and tightly packed racks worthwhile. 
The liner notes make interesting comments about Montgomery's performance on the new instrument - "The amazing penetrating power of this instrument is well demonstrated on UAM UAM where it embodies a percussive sound in the part it plays at the onset". The track listed as UAM UAM would later be listed as Mau Mau on subsequent reissues.